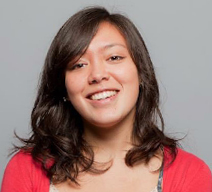 A dear friend and future star was tragically taken from us recently. Anne Baldock was killed by a drunk driver early in the morning of May 16, 2015. She will be sorely missed.
Anne joined our lab in the summer of 2009 as an 18-year-old undergraduate and quickly proved that brilliance and hard work can make things happen. Anne showed herself to be a superstar capable of mastering her education work load while maintaining a strong and productive work ethic in the lab. Even though she was a full-time student, she was offered a staff research scientist job, which is a very unusual and impressive achievement for a then-sophomore in college! After that, she played a pivotal role in the success of the lab. Anne assumed a leadership role among the researchers, leading the image measurement team responsible for collecting most of our data. Anne authored or co-authored over 12 papers and articles by the time she started Medical School in 2013. Anne had applied to, and been accepted by, a dozen different medical or MD/PhD programs. She was just finishing her second year at the University of California San Diego when she was killed. Anne had the skills, talent, and work ethic to make a major difference in the world. Medicine is left without a bright star.
The Anne Baldock memorial has been established in loving memory of Anne Baldock by her family. Funds donated in memory of Anne will be used to further translational research in malignant brain tumors using mathematical modeling, a cause to which she devoted her innate and emerging scientific talents. If you would like to make a donation to Anne's memorial, please send your donation to The Mayo Clinic.