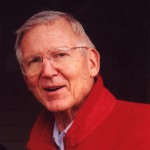 Dr. Ellsworth C. "Buster" Alvord, Jr., retired head of the Department of Neuropathology at the University of Washington and noted civic philanthropist, died on January 19, 2010, at his Seattle home following a stroke. Born May 9, 1923, in Washington, D.C., the son of Ellsworth C., Sr., and Katharyn Alvord, Buster Alvord received his bachelor's degree from Haverford College, in Pennsylvania, in 1943, and his medical degree from Cornell University in 1946. Following graduation, he continued his training in neurological disorders at New York Hospital, Walter Reed Hospital, and the Armed Forces Institute of Pathology. From 1953 to 1955 he served as Chief of the Neuropathology Section of the National Institute of Neurological Disease and Blindness, and in 1955 accepted an appointment as associate professor of
pathology and neurology at Baylor College of Medicine, Houston. In 1960 he began a distinguished career at the University of Washington, where he served for almost 50 years as professor of pathology and pioneer in the field of neuropathology. Several tributes have been written about Buster and his legacy, including one from the University of Washington, a piece in JAMA Neurology, and a piece in the Journal of Neuropathology and Experimental Neurology.
Remembering Dr. Alvord (Buster)
"Buster was known for his red-inking. If you ever needed something carefully read through and painstakingly edited for both english as well as concept, he was fantastic. I think in our age of fractured language in emails and texting etc, his will be a lost art!
Buster served on my PhD committee and, in fact, he is the reason I was brought to brain cancer research. In the Spring of 1999, I circulated draft copies of my dissertation for editing and, of course, received appropriate red-inking from Buster. However, in June of 1999, I had just successfully defended my thesis and proudly gave my thesis committee members the beautifully bound copies of my PhD thesis. A couple days later, I saw Buster and he handed his beautifully bound thesis copy back to me… RED INKED!
I have his copy to this day, with all his red-inking in it. As far as Buster was concerned, there was always room for another pass at perfecting text." -Kristin Swanson
For additional photographs, please view the 2010 Alvord Lecture Remembrance page.
For more about Dr. Alvord's life…stories, thoughts, and photographs, please visit Memories of Dr. Alvord.
If you have non-electronic items to share, please forward them to:
Dr. Kristin Swanson
Director, Mathematical NeuroOncology Lab
5777 E Mayo Blvd
SSB Suite 2-700
Phoenix AZ 85054